Description
The newest countertop water ionizer by EOS is easily the most advanced water ionizer ever made. From its very core, its DNA, it is state of the art technology producing the highest quality ionized water ever made. More power. Better filtration. More antioxidants. It is water ionization fundamentally redesigned to perfection.
Touch Screen Operation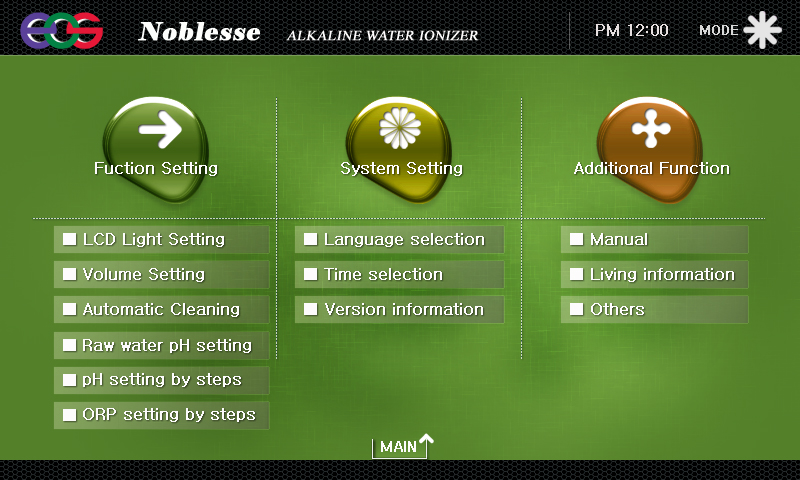 The EOS DNA Water Ionizer is the first water ionizer that operates like a smartphone.
With the touch of your finger, you can select alkaline or acidic water, control the pH and ORP levels, set the clock, read the manual, read tips on living a healthy lifestyle, and scroll through useful tips for using the EOS DNA Water Ionizer. You can also access the advanced Mode section to make changes to the ionization, the filter life warning, the speaker volume and more, making the EOS DNA water ionizer customizable to just the way you like it.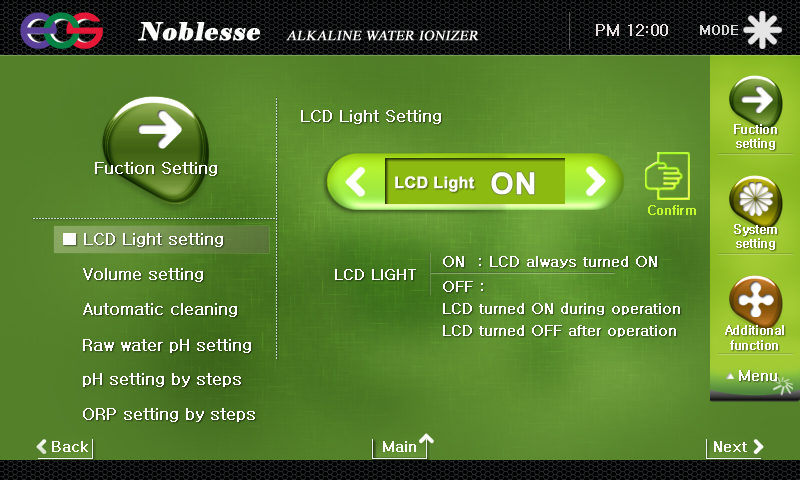 Customize your EOS DNA Water Ionizer by changing the brightness of the LCD screen, the volume, the time, and so much more!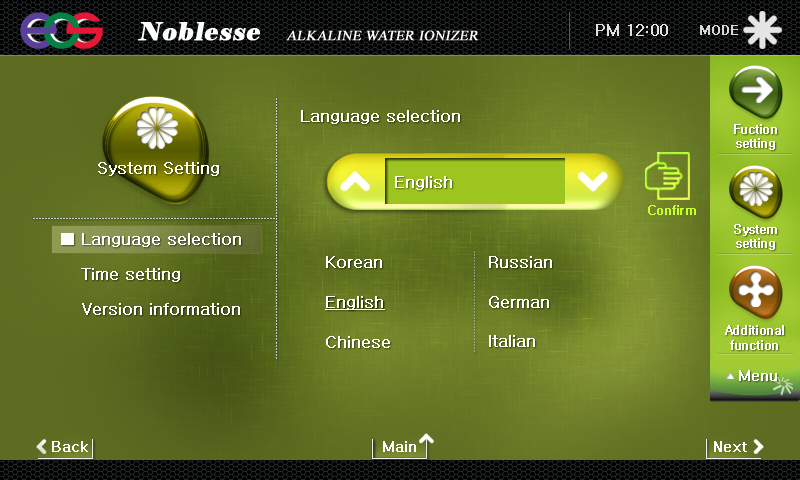 You can even change the language, read the manual, or read up on some healthy living tips to keep you motivated in your healthy lifestyle!
10 Preset Ionization Levels
While the EOS DNA Water Ionizer is capable of 76 alkaline pH levels alone and literally hundreds of pH and ORP combinations, the ten most useful settings have been preset and are available with the touch of your finger. Here are the ten preset levels and why they're so useful:
Alkaline Water Level 1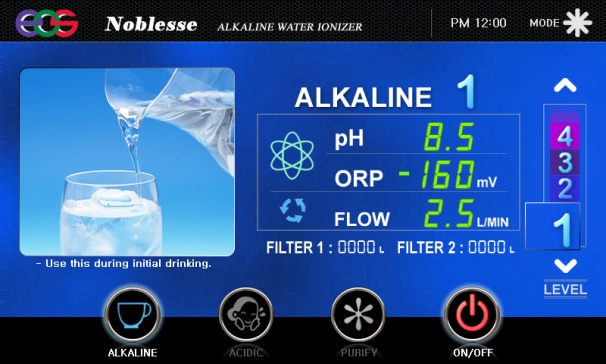 This is a gentle alkaline water level perfect for making baby formula or for those with sensitive stomachs. This is about the same pH as milk. It is also a great first level for those who are new to ionized water.
Alkaline Water Level 2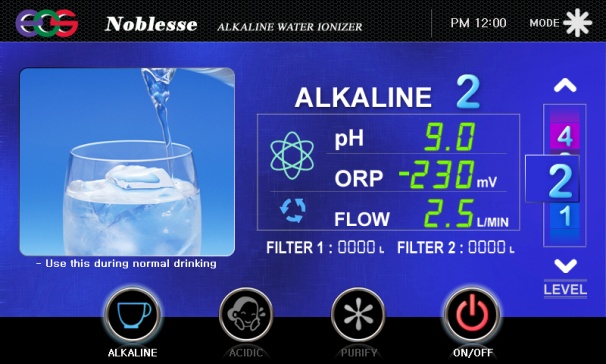 The alkaline water level two is a stronger alkaline water, a 9.0 pH, that serves as a second step for those new to ionized water. We recommend that you first start drinking level one for about a week, then level two for about a week, then drink level three. Alkaline ionized water is a powerful antioxidant that will detoxify your body, so it's best to go slowly.
Alkaline Water Level 3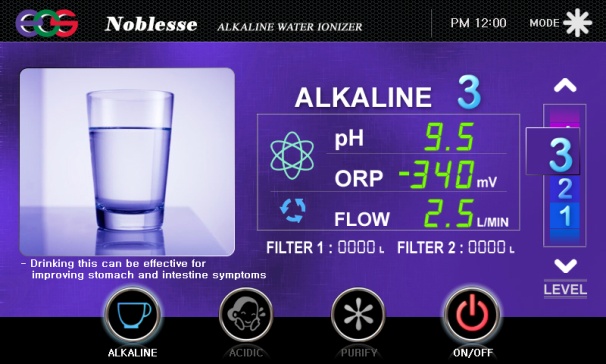 Alkaline water level three, a 9.5 pH and -330 ORP, is the ideal drinking water, fashioned after the world famous water in Lourdes, France and longevity springs world wide. Just like Mother Nature uses the sun to naturally ionize spring water, the EOS DNA Water Ionizer uses the same water electroylsis to create the same quality water. Statistically, people who drink from longevity springs are much healthier than the general population and many people believe the magic is in the water. So do we.
Alkaline Water Level 4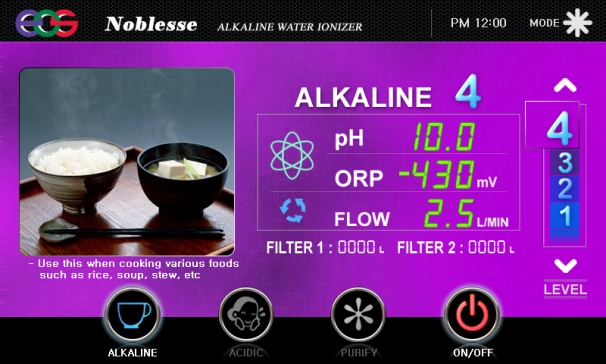 Alkaline level 4 is a perfect pH for making your coffee and your tea. Tea and coffee are naturally acidic and brewing them with this strong alkaline water will neutralize the acid and make it slightly alkaline. You'll really notice the difference as your beverage will taste and feel much smoother and your teeth will appreciate not being stained from the acid. This is also a great level for making rice and cooking stews.
Alkaline Water Level 5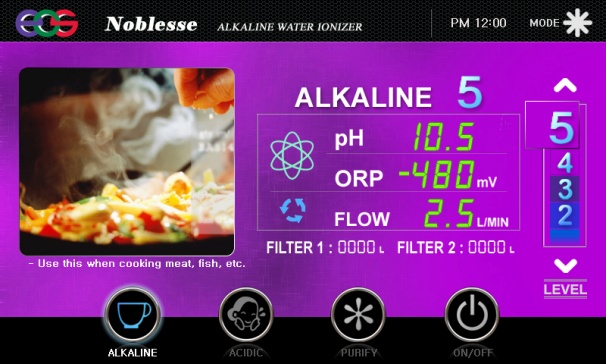 At an 10.5 pH, alkaline water level 5 is the recommended level for cooking meat. The high alkalinity of this water will neutralize fat and acid in your meat, leaving only the natural flavors, and making your meal absolutely delicious!
Alkaline Water Level 6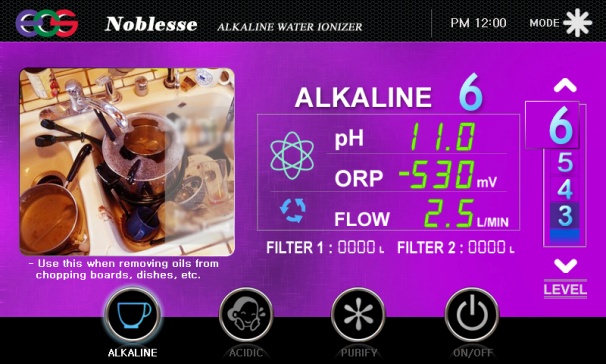 At an 11 pH and higher, alkaline level 6 is your cleaning alkaline water. Use this water to neutralize oil based stains on your dishes, countertops, and even your carpet. Also, soak your produce in this water to remove oil-based pesticides, getting it much cleaner than soap alone.
Acidic Water Level 1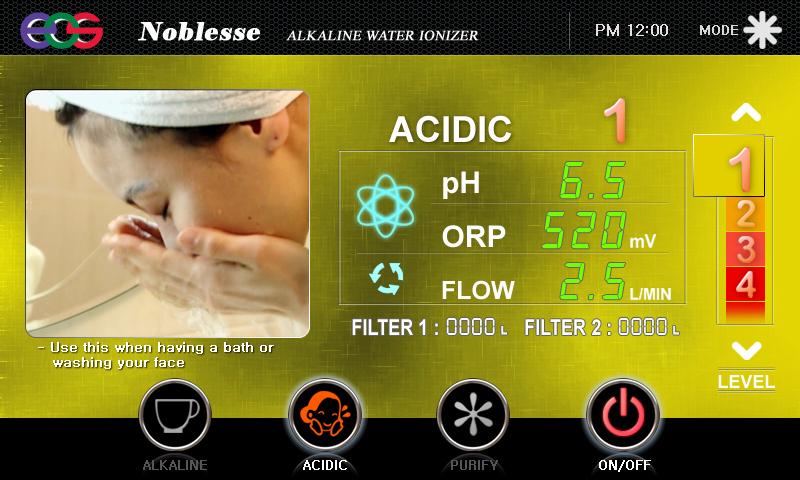 This is a very gentle acid water that is best used for bathing an infant or washing sensitive skin.
Acidic Water Level 2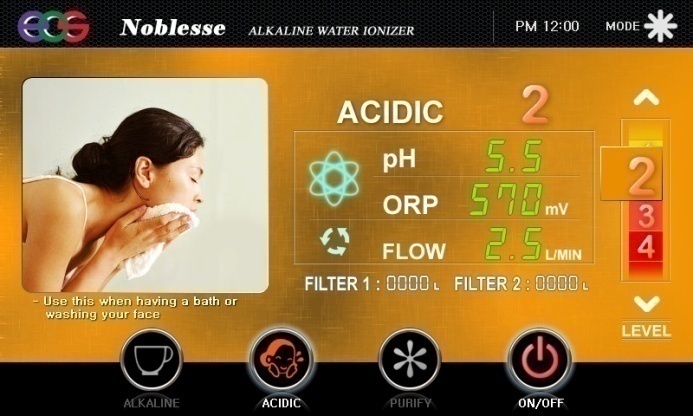 5.5 pH water is considered beauty water in Japan and they actually bottle it and sell it for a few dollars a bottle! The reason why people are willing to pay so much for beauty water is it's a natural astringent and will clean and tighten your skin without the use of chemicals. Just pour this water into a spray bottle, set the bottle to spritz, and spray it all over your face a couple times a day, preferably day and night. You'll see how it neutralizes oil and gently removes dirt while carefully and naturally tightening your skin.
Acidic Water Level 3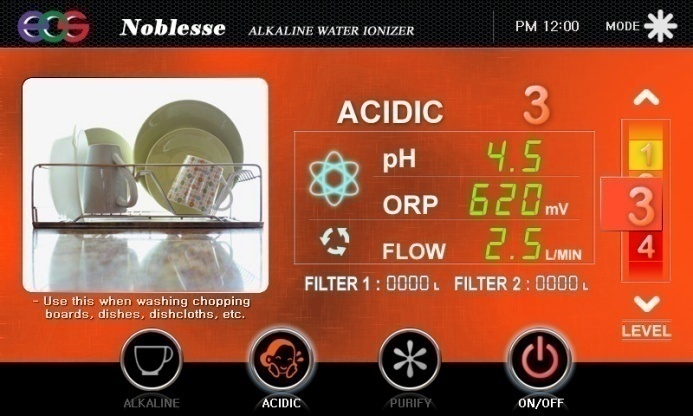 This is the acid water that your house plants are going to LOVE! Plants have the opposite biology when compared to animals, so they crave acidic water. This 5 pH water is perfect for their biology and you'll see your house plants thrive. You can also put your cut flowers in level 3 acid water and they will last twice as long as putting them in tap water!
Acidic Water Level 4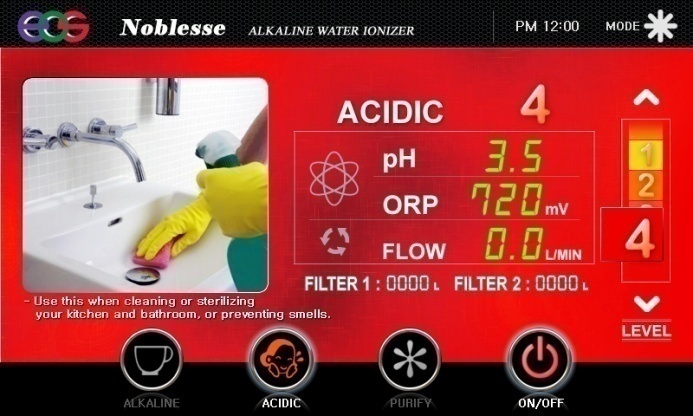 The acidic water level four is the water you use to sterilize. It can kill bacteria and viruses so all you have to do is collect it in a spray bottle and spray everywhere! Spray your kitchen, spray your bathroom, soak your sponges and tooth brushes in it to keep them sterile. The amount you will save using this acid water instead of chemicals will really add up, adding even more value to the EOS DNA Water Ionizer.
Advanced DNA Water Filtration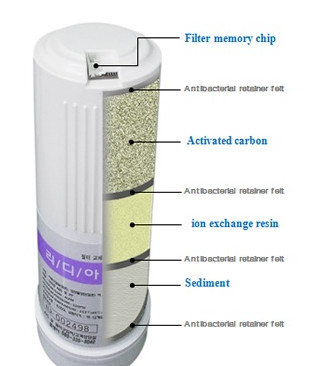 The stuff you find these days in tap water is SCARY! Pesticides, left over pharmaceutical drugs, chlorine, fluorde, nitrates and nitrites from farming, cleaning agents, chloramine, and more… You can rest assured that EOS DNA Water Ionizer will remove 99.99% of these contaminants, a higher filtering standard than even bottled water! The DNA water filter even uses an ion exchange resin to help remove heavy metals!So, you can serve EOS ionized water with confidence that it is the cleanest, most refreshing, and best tasting water that money can buy.
The Most Advanced Plates in the World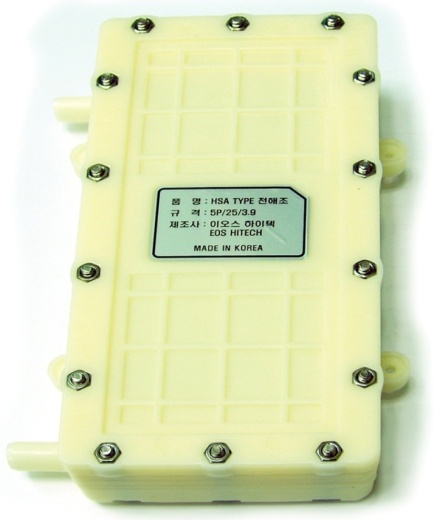 The EOS DNA Water Ionizer plates are the most advanced in the world. Made by the Heesung metal company of Japan, who is top-rated in the world for making platinized titanium plates, they also a patented design. The slotted plate technology incorporated into EOS plates distributes the electrical current evenly so there aren't any hot spots or degradation of the plates over time. This is a much better design than mesh plates that tend to trap minerals, which reduces the ionization.
The Most Advanced Electrical System Ever Built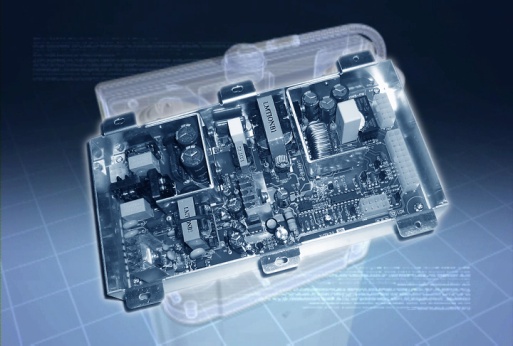 The most important component to any water ionizer is its electrical system. The electrical system powers everything else and the quality of the electrical current produced directly affects the quality of the water ionization. So, when EOS set out to design the new DNA water ionizer, the electrical system is where they started. What they have created is the coolest running SMPS electrical system ever created with the cleanest electrical current that will create an abundance of antioxidants in your water and precisely ionize your water to the pH and ORP that you want.